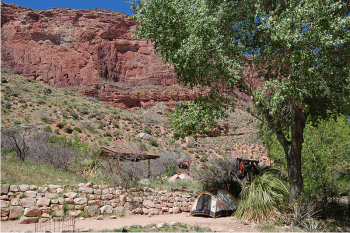 If you're seeking a truly adventurous backpacking trip in Grand Canyon, this trip is for you. Beginning at the Grandview Point Trailhead, hike 12 miles into the canyon, away from the hustle and bustle of Grand Canyon's busy South Rim and a world away from modern civilization. As we hike down the Grandview Trail, we will have the option to visit the only cave open to the public in the entire park! Over the course of the trip, we will hike along the mostly flat Tonto Trail from Grandview trail to South Kaibab, perfectly perched midway into the canyon's depths so we can enjoy both towering cliffs above us and views of the Colorado River below. This trip is designed for experienced backpackers or those with an adventurous spirit looking to challenge themselves and step outside the ordinary.
Duration: 5 days/4nights
Departs: Old Town Scottsdale
Includes: Round-trip transportation from Scottsdale, all permits & entry fees, skilled guide(s), all meals (lunch day 1 thru lunch day 5), kitchen & group gear (cooking utensils, stove, fuel, water filter, food storage, dish washing necessities), personal mess-kit (bowl, mug, fork, spoon).
Not-Included: Personal insurance and expenses; Pre- or post-trip lodging; Airfare to and from Scottsdale, AZ; Airport transfers; Breakfast Day 1, dinner Day 5; Sleeping bag, Sleeping pad, Backpack, Tent (rentals available); Trekking poles (complimentary upon request).
Cost: $1195/person + $56/person permit fees
Price is based on shared occupancy. Solo occupancy upgrade available for an additional $25/person +tax; A $500.00 per person deposit is required to hold your reservation on any trip. The balance is due 60 days prior to your trip departure date. Prices subject to change and will be based on actual costs at time of departure.
CANCELLATION POLICY
All cancellations must be made in writing via email or fax. Cancellation fees abide by the following schedule:
-91 or more days prior: Full refund for all trips
-61 to 90 days prior: Forfeit of deposit (30%)
-31 to 60 days prior: 50% of trip cost
-0 to 30 days prior: 100% of trip cost (no refund)
Trip Itinerary
Overview
Over five days you will explore the carved out landscape of Grand Canyon, punctuated by pine trees and old mines shafts – the exploratory ventures of gold-thirsty pioneers. With your guides beside you to share stories, answer questions, and introduce you to the diverse wildlife in this part of the canyon, allow yourself to be captivated by the grandeur of your surrounds. This guided backpacking trip, though not so very far away from the rim, leads you into a world apart, a place rich in canyon history, surprisingly isolated, full of wild beauty.
DAY 1: DESCEND SOUTH KAIBAB TRAIL TO THE TONTO PLATEAU
After meeting in Scottsdale and transferring to Grand Canyon National Park, your guide will help you with a basic pack fitting, packing demonstration, and give a quick overview of the itinerary. At the trailhead, we will fill our water, carrying enough to cover us for the next 2 days. The South Kaibab Trail is not for the faint of heart. It descends 3,000 feet below us, negotiating the sheer walls of the Redwall Limestone and Coconino Sandstone via engineered switchbacks, and traversing an exposed ridgeline affording some of the most jaw-dropping views in the entire park. South Kaibab Trail, together with North Kaibab Trail, was the first trans-canyon route ever constructed. The word Kaibab in the Paiute language means, "Mountain lying down". Doubtless we will disagree with this moniker as we descend its seemingly unending switchbacks. After 4.5 miles, we reach an area called The Tipoff, where we find an NPS-provided restroom, our last for the next 5 days. We travel another mile on the Tonto Trail to find our camp for the night. Tonight, we pitch camp and enjoy a dry dinner to conserve water for our hike tomorrow.
Hiking: 5.5 miles
Meals: Lunch and dinner included
Lodging: Backcountry camping
DAY 2: CREMATION CANYON TO LONE TREE
After a dry breakfast, we pack up camp and venture deeper into the backcountry. Cremation Canyon, named for the cremation site at the head of the canyon utilized by ancient Native American tribes for ceremonial burials, is a backpacker's dream escape. Just a few miles off the main thoroughfare of South Kaibab, we find ourselves incredibly close to civilization while still enjoying the unbelievable remoteness only the Grand Canyon can offer. From our camp we can glimpse the winding route of the South Kaibab Trail, as well as Cheops Pyramid, one of the white-crowned towers within the canyon. Upon reaching camp, we'll drop our packs and make a side trip to retrieve water from Lone Tree, then enjoy dinner beneath the stars of the Milky Way!
Hiking: 4.5 miles
Meals: All meals included, dry breakfast
Lodging: Backcountry camping
DAY 3: LONE TREE TO GRAPEVINE
Our winding, twisting journey along the Tonto Trail continues along the "fingers" of the canyon, reaching out from the South Rim toward the Colorado River. We'll see Eighty-five Mile Rapid from above, and pass several springs where miners and early explorers ventured to find water in this dry desert canyon. To our right stands the amazing colors and sheer cliffs of the South Rim, painted countless shades of red and white in stripes and patterns that seem almost man-made. To our left we hear the waters of the Colorado River, whose muddy waters carved every detail of this unforgettable land. At this elevation, low desert plants such as Ocotillo and Utah Agave mix with the grasses and shrubs of higher elevations to make an intricate playground of medicinal and edible plants familiar to both the Native Americans who once roamed here and canyon wildlife who still do.
Hiking: 8.7 miles
Meals: All meals included
Lodging: Backcountry camping
DAY 4: GRAPEVINE TO COTTONWOOD
After a hearty breakfast we break camp and continue our route along the casual rolling hills of the Tonto Trail. The Tonto Platform on which we hike is a flat plateau formed within the canyon and stretching it's entire length, providing a "gut" in the middle of the otherwise vertical canyon cliffs. This amazing formation and the 95-mile trail (the longest in the canyon) built along it allows us this serene, secluded route through one of the Seven Natural Wonders of the World. We may see one other group of intrepid hikers as we move east, making our way out to a viewpoint over Grapevine Rapids on the Colorado River 2,000 feet below. After just 5.5 miles, we make camp at beautiful Cottonwood Creek.
Hiking: 5.5 miles
Meals: All meals included
Lodging: Backcountry camping
DAY 5: COTTONWOOD TO THE RIM
We pack up camp one final time and say goodbye to our relatively easy-going flat Tonto Trail as we ascend 2,600 feet toward the rim of the canyon. Grandview Trail provides steep switchbacks and distracting views to accompany us on our upward journey. Highlights during our hike today include views from the Coconino Saddle, remnants of old mining camps, as well as our first bathroom since the Tip-off at Horseshoe Mesa! We have the opportunity, if time permits, to explore the Cave of the Domes as well, the only cave in Grand Canyon open to public exploration. Reaching the top of the canyon is a challenge, but it is also an unforgettable feeling only accomplished by through-hiking the Grand Canyon!
Hiking: 5.9 miles
Meals: breakfast included, lunch and dinner on your own
Lodging: on your own
Note about itinerary changes: We do our best to operate each trip as closely as possible to the published itinerary, however there are sometimes forces outside of our control that could require us to make adjustments to the operations of a trip. These include but are not limited to weather, natural disasters, road closures, park closures, campsite availability, emergency guest illness or injury.