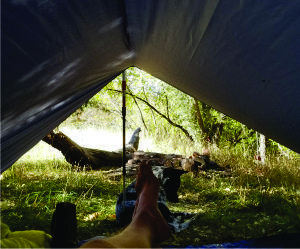 So, you've always wanted to learn about backpacking but didn't know where to start. Well, you've found the right place.
Backpacking is one of the greatest ways to "get away from it all" and explore nature. Just a few things on your back and you're set. But what "few things" do I really need and are there luxury items I should consider? All of this will, and more, will be covered in our Introduction to Backpacking class.
We'll also cover crucial elements like route planning, basic navigation & map reading, camp-site selection, finding & filtering/purifying water, LNT, basic camping cuisine & more! You'll walk away from this course with the skills necessary to plan and enjoy a backpacking trip with your friends. You'll also know how to shop for gear and not get taken by the sales person that wants to sell you 25lbs of stuff you won't really need.
Duration: 3-Days
Departs: Various locations depending on the time of year.
Includes: Instructors, Dinner on D1, Breakfast on D2
Not-Included: Personal insurance and expenses, Pre- or post-trip lodging, Transportation, Equipment not outlined above (what-to-bring; rentals available); Meals not outlined above including your own personal water/snacks.
Cost: $150/person - Cost is based on double-occupancy; single occupancy options are an additional $45/person.
Outline
The purpose of this course is to give you the skills necessary to plan and participate in a basic backpacking trip. We'll combine classroom time in addition to practical application so you walk away with a true understanding of each particular skill set.
DAY 1: CLASSROOM TIME - EVENING HIKE & DINNER
The day will be spent at our basecamp, learning the basics (you'll appreciate bringing a camp-chair). That afternoon we'll don our packs and go for a quick 2-hour hike. We'll return that evening to sit around a campfire (when permitted) and discussing the next day's hike. We'll enjoy a home-cooked meal (provided by us) and BYOB.
Hiking: 2-hour Evening hike
Meals: Basecamp Dinner
Lodging: Tent camping at basecamp
DAY 2: HIKE TO YOUR EVENING'S CAMPSITE
Today will be a real hands-on, foot-on-the-trail kind of day. Students will plan their route and distance, and coordinate with the instructors. After breakfast teams will depart. Students will be required to set up their camp that evening w/o assistance from other hikers/instructors.
Hiking: Distance will be dictated by your 2-person team, but students will be required to hike a minimum of 4-hours.
Meals: Basecamp Breakfast; BYO-Lunch; Freeze-dried dinner
Lodging: Tent camping in a remote/dry location.
DAY 3: RETURN TO BASECAMP
Day three will find you waking in the middle of nature; there is no reason to hurry - you might as well enjoy a leisurely morning and coffee. Take your time, because after you hike out it's back to civilization. We'll have a discussion group about our experiences, challenges and take-aways.
Hiking: The distance you hiked out the previous day
Meals: Freeze-dried breakfast; BYO-Lunch
Lodging: On your own
Note about itinerary changes: We do our best to operate each trip as closely as possible to the published itinerary, however there are sometimes forces outside of our control that could require us to make adjustments to the operations of a trip. These include but are not limited to weather, natural disasters, road closures, park closures, campsite availability, emergency guest illness or injury.